Another Adventure.
Shelf Canyon is a fun, if brief, slot canyon hike near the Tunnel on Zion's East Side. Shelf is basically a hands-on introduction to slot canyon geology, as you encounter hoodoos, slickrock, and tight slot sections whilst moving through an obstacle course requiring boulder hopping and some easy up/down climbing. While this hike may not entertain athletic adults for too long, it could make a great 3-hour adventure for a few excited kids and an adult spotter!
RATINGS
Short, easy hike with moderate obstacles
TIME COMMITMENT
1 to 2 hours
LENGTH
About 1 rugged mile roundtrip
ESSENTIALS
Sturdy hiking shoes, ample water, and perhaps a snack
DRINKING WATER
None. Bring Plenty.
ACCESS
Starts and finishes at Canyon Overlook parking area or the pullout 800 yards further uphill
SEASONAL ADJUSTMENTS
Most of the hike is in the shade. The hike can usually be done year-round, except in icy, wintry conditions. In summer, bring plenty of water for a hot hike.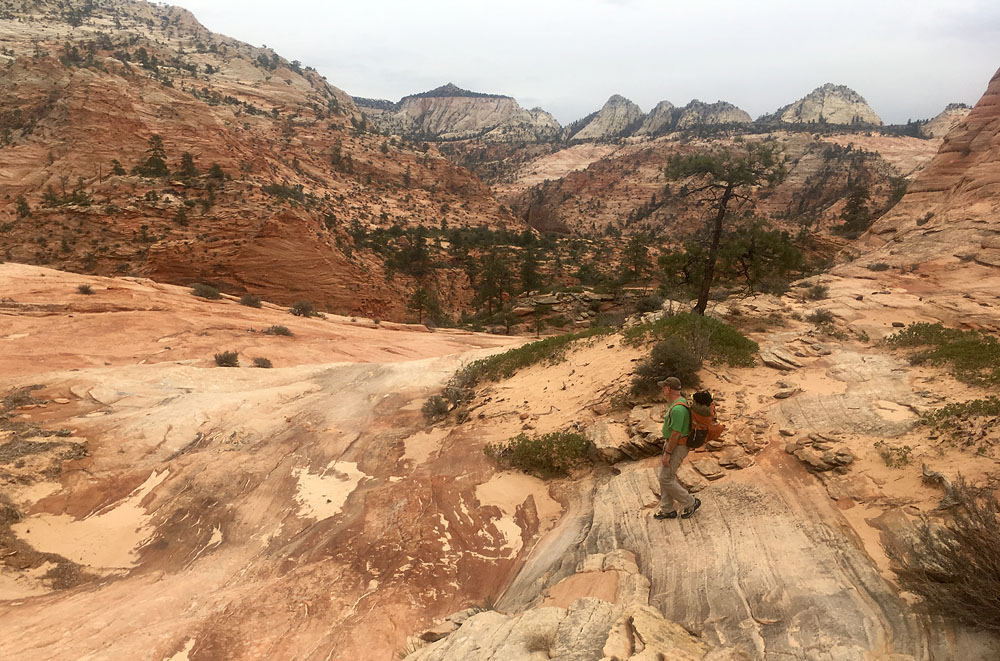 Drive on Hwy 9 to the Tunnel and park in one of the Canyon Overlook pullouts, either the small lot across from the trailhead or the larger lot about 80 yards further uphill, past the roadcut.
The Hike
Shelf Canyon is very small and not shown on most topo maps. It is the first prominent canyon east of the Canyon Overlook Trail, on the North side of the highway. Hop into the drainage and head up canyon.

The first section is wide and overgrown. Scramble over some boulders and slickrock outcroppings. In about a quarter mile, the canyon narrows and you are in the "slot". Explore and maybe wade through a bit of water.

The canyon ends in a small alcove. Turn around here, unless you have good scrambling skills and desire to explore above. Return the same way you hiked in.