Tom's Utah Canyoneering Guide
Using the Guide
Site Organization
Tom's Utah Canyoneering Guide is organized based on major canyoneering areas within the state:
These areas are listed across the main navigation of the page, and within each area's sub menu is a list of all the canyons (they're also found on each canyoneering area's intro page).
The exception to this rule is Zion. There's such a high concentration of canyoneering (and hiking) information for this area that we've separated it into four categories: general visitor info, hikes, off-trail hikes, and technical canyons.
If you're looking for something and can't seem to find it, you can always try the search function, located here and at the top right of each page.
The Canyons
Rather than give a blow-by-blow description of each route, eliminating the sense of adventure, I aim to provide just enough information to get you into serious troub... I mean, just enough information to help you 1) choose routes appropriate for your group, 2) find your way, and 3) bring the right gear for the descent.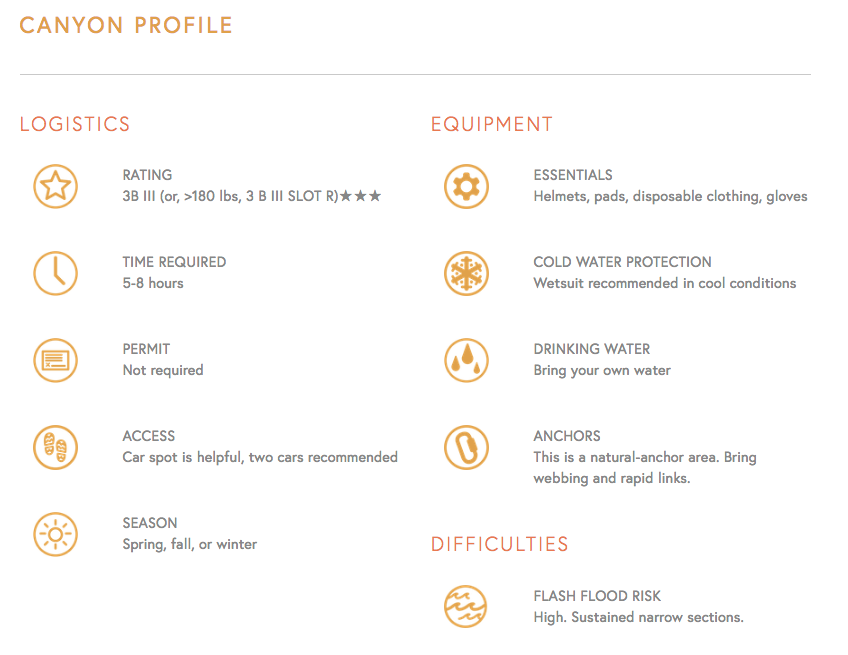 Look for the canyon profile icons to get information on logistics, equipment, and skills required for each canyon.
Each canyon is organized into the following:
Profile: Includes logistics, equipment, skills required, and any other special considerations.

Approach: Information on getting to the canyon, plus getting from your car to the canyon itself.

The Business: The canyon play-by-play.

Exit: How to get back to your car, your camp, the road, etc.

Maps & Info: CUSA maps and printable PDF guides (check out the maps download center, too)

Trip Reports: Latest Rave blog posts, stories, and alternative descriptions (i.e. descriptions outside of CUSA).

Gallery: Photos of the canyon, from previous descents.
While not all descriptions contain sufficient detail to fill all these areas, all canyons contain Profile information, as pictured above. If we haven't visited a canyon in a while, you may be taken straight to a PDF, which is considered an "archived" profile. Archived profiles, which look like this, can be helpful if you're looking to descend these canyons, but should be taken with a grain of salt. Other information on these canyons can be found from other sources, and should be cross-referenced with our provided archived profiles.
Introduction
Canyon Profiles
Canyon Profiles contains each canyon's essential information. Canyoneers can get a sense of a canyon's technical challenges, required equipment, and overall character from the Profile information. You can find a Canyon Profile by navigating the main menu links on this site, which are organized by area. Our handy icons will help you figure out what you need to know, fast.
Canyon Profile: LOGISTICS
Rating includes the technical rating, the water volume rating, and my subjective rating of the quality via a "Star System." Understanding the ratings is important to using this guide; please see Understanding Canyon Ratings if you are unfamiliar with the ACA Canyon Rating system.
Season states the normal time of year to visit the canyon, usually with an explanation as to why. You may descend in other seasons, of course, but the description is tailored for the recommended season.
Time Commitment gives the time usually taken by competent, fit adults traveling in small teams, moving at a good pace...but also allowing for the usual poking around and picture-taking. Larger groups will usually take more time. People new to canyoneering and not yet proficient at technical canyons should allow 50 to 100 percent more time to descend the routes. The times stated are usually based on several descents with a variety of groups.
Longest Rappel is the length of the longest rap. Most parties will want to bring at least TWICE this length of rope.
Access briefly describes how to reach the canyon trailhead, as well as any necessary vehicle shuttles. More detailed information in the "Approach" tab.
Permit Required? indicates whether your group needs a permit from the agency managing the canyon resource.
Emergency tells you who to contact in the event of an emergency (seems obvious, but we've got to say it!)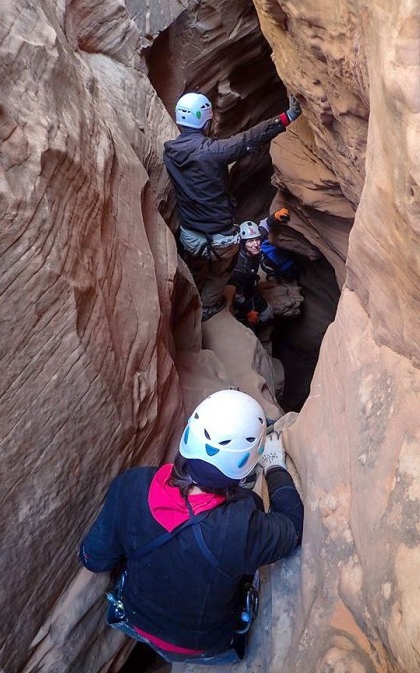 The logistics section of each canyon profile gives you a fast overview of what you'll encounter.
Bringing along the 'required gear' does not make you safe, but not bringing along the required gear might make you unsafe
Canyon Profile: Equipment
Essentials describes special equipment required to complete the route safely, over and above the "standard kit" appropriate for to the technical and water ratings. We usually state "Helmet, Rappelling Gear, Webbing and Rings" just to remind you that these are essential on every trip. ALWAYS bring water, food, a pack, decent shoes and a map.
For technical canyons, add a helmet, a harness, a rappel device, slings, and enough webbing and rapid links to establish or re-sling anchors in the canyon. More advanced canyons may require pack/Pot Shot tossing, or hooking out of potholes. A bolt kit is not required for routes listed in this guide (with a few exceptions, as noted).
Cold Water Protection suggests whether your party will want insulation from cold water using wetsuits or drysuits, and under what conditions you'll want to have this year along.
Drinking Water indicates availability of reliable drinking water. Found water requires filtering to be safely consumed. Most canyoneers carry sufficient water for the day from the start.
Flash Flood Risk offers a generalized assessment, based on canyon topography, drainage size, and escapability. Almost every canyon adventure here has some degree of flash flood danger. I give a rather general rating and a few points to think about. Flash flood awareness is an important skill to bring to the canyoneering environment
Anchors describes the type and/or quality of the anchors. These can change drastically due to human and/or natural intervention.
Skills Required offers a brief description of the difficulties found on the adventure, as I found it. This includes rappels, climbing problems, swimming/wading problems, exposed climbs, difficult anchors and navigational difficulties. Conditions change from day to day, and season to season. You will find the water level of pools and the wetness of canyons has a strong affect on difficulty, and can vary greatly.
Introduction
Final Thoughts
A dynamic endeavor
The sport of technical canyoneering is changing rapidly as it grows and develops. What will happen to our beautiful wild canyons of the Colorado Plateau? Our impact on the wilderness canyons has become significant. There is a danger our canyons will soon be littered with human artifacts, and the sport of canyoneering reduced to a "clip and go" experience. Bolts are considered appropriate in the high-usage canyons of Zion, but generally inappropriate elsewhere in Utah. Please do not add bolts to canyons—instead, learn how to descend canyons safely using natural anchors.

Through conversation, we can develop a consensus about what is, and what is not, appropriate for our canyons. My own contribution to the conversation is Ethics & Style. Please read this section and ponder how your actions impact the environment and the experience of other canyoneers.