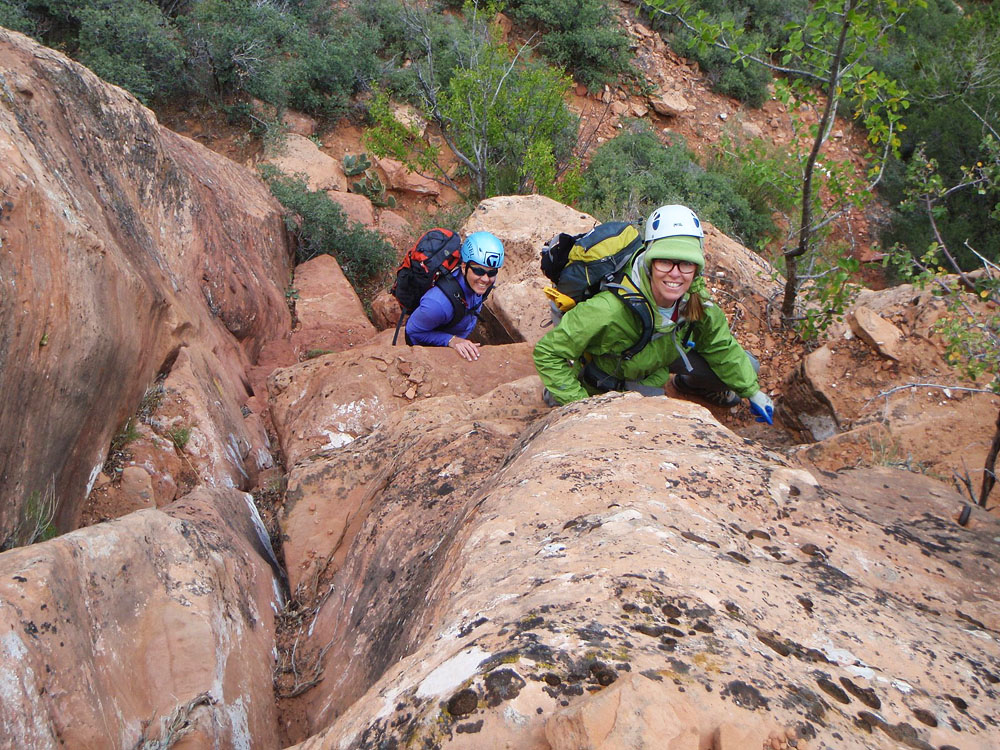 Zion's off-trail hikes can range in intensity from strolls to scrambles.
Off the Beaten Path.
Zion and the surrounding area hosts a tremendous number of scenic off-trail hiking routes. While "off-trail" hikes sometimes do have discernible trails, the routes are not maintained, marked trails, and usually involve some route finding. As is common in slickrock country, routes across slickrock are commonly marked with only the occasional rock cairn; these cairns can tumble, or be knocked down by other hikers. On occasion, a big storm or a heavy winter can render an off-trail route indiscernible, making it quite difficult for inexperienced hikers to navigate. While the degree of difficultly may go up a notch here, these adventures can be exciting and scenic, and offer a break from the crowds on more traveled hikes.
Curious? Just click on the links below to access information on Zion's off-trail hikes.
OFF-TRAIL HIKES OF ZION
Main Canyon
| Hike Name | Length (mi/km) | Quality | Elevation Gain(ft/m) | Time | Permit |
| --- | --- | --- | --- | --- | --- |
| RIGHT FORK - BOTTOM-UP | 10.6mi/17km | ★★★★☆ | 1000ft (300m) | 8-12 hrs (or overnight) | Only if overnighting |
| SUBWAY - BOTTOM-UP | 4-7mi/10.6km | ★★★★★ | 1000ft (300m) | 6-10 hrs | YES |
Hike Name
Length (mi/km)
Quality
Elevation Gain(ft/m)
Time
Permit
THE BARRACKS
~40mi/64km
★★★★☆
Minimal until the Exit of 2500ft (~750m)
2-3 Days
No, but leave a note on your car.
CLEAR CREEK
max 6mi/9.6km
★★★★☆
Minimal
30mins-4 hrs
No
CRAWFORD ARCH
Depends on Route
min 7mi/11.2km
★★★★☆
~1500ft/450m
10-12hrs
None for hike. Permit for canyons
NARROWS TOP-DOWN
16mi /25.7km
★★★★★
~200ft/~60m
10-14 hrs
YES
NARROWS OVERNIGHT
16mi /25.7km
★★★★★
~200ft/~60m
Overnight
YES