Roadside attraction.
There aren't many official trails on the Zion's East Side, but the slickrock washes and formations along Highway 9 beckon hikers to stop and explore. Fortunately, frequent pull-outs make pit stops easy, and many visitors get out to poke around. Those who do often end up in Clear Creek, the drainage running along the south/east side of the highway. Wide, winding, and easy to follow, Clear Creek and provides some fun, off-trail exploration while sticking VERY close to the road. Even so, it's amazing how remote Clear Creek can feel, especially when you find sanctuary in one of its numerous slot canyon sections.
There are many options for this hike, as you can access Clear Creek at tens of spots along its length. As with all off-trail hikes, please walk on rock or sand (which you can't hurt) and watch out for fragile cryptobiotic soil (which you can easy destroy). If you follow Clear Creek downstream to the bridge, it quickly becomes Pine Creek, a technical canyon for which you will need ropes and technical canyoneering skills. If you don't have these, it's best not to pass under the bridge.
RATINGS
Casual to strenuous hike, depending on water flow. Footing in creek bed is highly variable.
TIME REQUIRED
30 minutes to 4 hours
LENGTH
It's up to you: 100 yards to 6 miles, round-trip
ACCESS
Access from any of the pullouts along Hwy. 9
ESSENTIALS
Sturdy hiking shoes, ample water, and perhaps a snack.
DRINKING WATER
Bring Plenty.
SHADE
Midday sun can be harsh, but there is generally shade available throughout
Seasonal Adjustments
Spring: Expect higher and colder water flowing due to springtime runoff. North Creek might be too high to cross at times in April and May. Neoprene socks are nice if getting feet wet.
Summer: HOT! Leave early to avoid the heat and be aware the hike out is in the full sun.
Fall: the BEST time to hike this route, with great fall photography along the creek bed.
Winter: Possible snowpack and ice along the waterfalls, thought this area is relatively low and gets a lot of sun.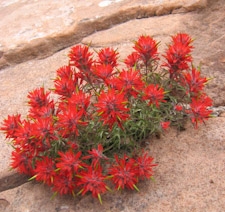 Drive to the Highway 9 Tunnel. Once you're east of the long (0ne mile!) tunnel, Clear Creek follows the highway for a couple miles. There are multiple parking and exploring options you can choose from. Find parking either in the small lot across from Canyon Overlook Trailhead, or the larger turnout 80 yards further (east) up the road. You can also park further east; the pullout after the second tunnel is also another good place to start.The Hike
From Canyon Overlook Parking: From the smaller parking area across from the Tunnel Booth, scramble down the social trail behind the bathroom. To the left is Clear Creek. To the right is Pine Creek, a technical routerequiring ropes and canyoneering skills. Feel free to take a peek, but take care to climb down anything you might not be able to get back up! Explore up Clear Creek as far as you care to, possibly checking out side canyons along the way. Whereever you roam, simply return the way you came.

From other parking pullouts: Pick a spot that looks interesting and head down in! The creek is visible on the south side of the highway and provides lots of interesting strolling through the East Side. As long as you stick to the drainage bottoms, you can always return the way you came.
Photo Gallery
Clear Creek Off-Trail Hike